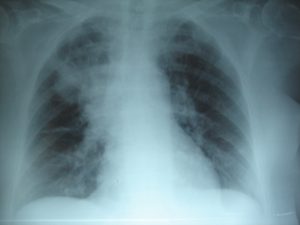 "Comparison of 8 vs 15 Days of Antibiotic Therapy for Ventilator-Associated Pneumonia in Adults"
JAMA. 2003 November 19;290(19):2588-2598. [free full text]
—
Ventilator-associated pneumonia (VAP) is a frequent complication of mechanical ventilation and, prior to this study, few trials had addressed the optimal duration of antibiotic therapy in VAP. Thus, patients frequently received 14- to 21-day antibiotic courses. As antibiotic stewardship efforts increased and awareness grew of the association between prolonged antibiotic courses and the development of multidrug resistant (MDR) infections, more data were needed to clarify the optimal VAP treatment duration.
This 2003 trial by the PneumA Trial Group was the first large randomized trial to compare shorter (8-day) versus longer (15-day) treatment courses for VAP.
The noninferiority study, carried out in 51 French ICUs, enrolled intubated patients with clinical suspicion for VAP and randomized them to either 8 or 15 days of antimicrobials. Antimicrobial regimens were chosen by the treating clinician. 401 patients met eligibility criteria. 197 were randomized to the 8-day regimen. 204 patients were randomized to the 15-day regimen. Study participants were blinded to randomization assignment until day 8. Analysis was performed using an intention-to-treat model. The primary outcomes measured were death from any cause at 28 days, antibiotic-free days, and microbiologically documented pulmonary infection recurrence.
Study findings demonstrated a similar 28-day mortality in both groups (18.8% mortality in 8-day group vs. 17.2% in 15-day group, group difference 90% CI -3.7% to 6.9%). The 8-day group did not develop more recurrent infections (28.9% in 8-day group vs. 26.0% in 15-day group, group difference 90% CI -3.2% to 9.1%). The 8-day group did have more antibiotic-free days when measured at the 28-day point (13.1 in 8-day group vs. 8.7 in 15-day group, p<0.001). A subgroup analysis did show that more 8-day-group patients who had an initial infection with lactose-nonfermenting GNRs developed a recurrent pulmonary infection, so noninferiority was not established in this specific subgroup (40.6% recurrent GNR infection in 8-day group vs. 25.4% in 15-day group, group difference 90% CI 3.9% to 26.6%).
Implications/Discussion:
There is no benefit to prolonging VAP treatment to 15 days (except perhaps when Pseudomonas aeruginosa is suspected based on gram stain/culture data). Shorter courses of antibiotics for VAP treatment allow for less antibiotic exposure without increasing rates of recurrent infection or mortality.
The 2016 IDSA guidelines on VAP treatment recommend a 7-day course of antimicrobials for treatment of VAP (as opposed to a longer treatment course such as 8-15 days). These guidelines are based on the IDSA's own large meta-analysis (of 10 randomized trials, including PneumA, as well as an observational study) which demonstrated that shorter courses of antibiotics (7 days) reduce antibiotic exposure and recurrent pneumonia due to MDR organisms without affecting clinical outcomes, such as mortality. Of note, this 7-day course recommendation also applies to treatment of lactose-nonfermenting GNRs, such as Pseudomonas.
When considering the PneumA trial within the context of the newest IDSA guidelines, we see that we now have over 15 years of evidence supporting the use of shorter VAP treatment courses.
Further Reading/References:
1. 2016 IDSA Guidelines for the Management of HAP/VAP
2. PneumA @ Wiki Journal Club
3. PulmCCM "IDSA Guidelines 2016: HAP, VAP & It's the End of HCAP as We Know It (And I Feel Fine)"
4. PulmCrit "The siren's call: Double-coverage for ventilator associated PNA"
Summary by Liz Novick, MD